Cradle Laying-up Machine / Cantilever Single Twisting Machine / Cabling Machine / Cable Laying Machine / Drum Type Laying-up Machine / Drum Twister / Multi Core Power Cable Making Machine.
1.Application:
Layingupmachine(cabling machine) is mainly used for stranding and armoring medium and low voltage cable, signal cable, control cable, mining cable, etc.
2. Types of cable laying machine:
(1).Cantilever single twisting machine is irregular stranding 50sqmm below.
(2).Bow type cabling machine is twisting 90sqmm below. high speed 160rpm.
(3). Cradle cabling machine is use for round or shaped cable, upto 300sqmm.
(4). Drum twister is use for single core and large cross-section cable. like 4x300sqm.
(5). Planetary cabling machine is use for multi-core insulated wire, like 3 to 128 wire.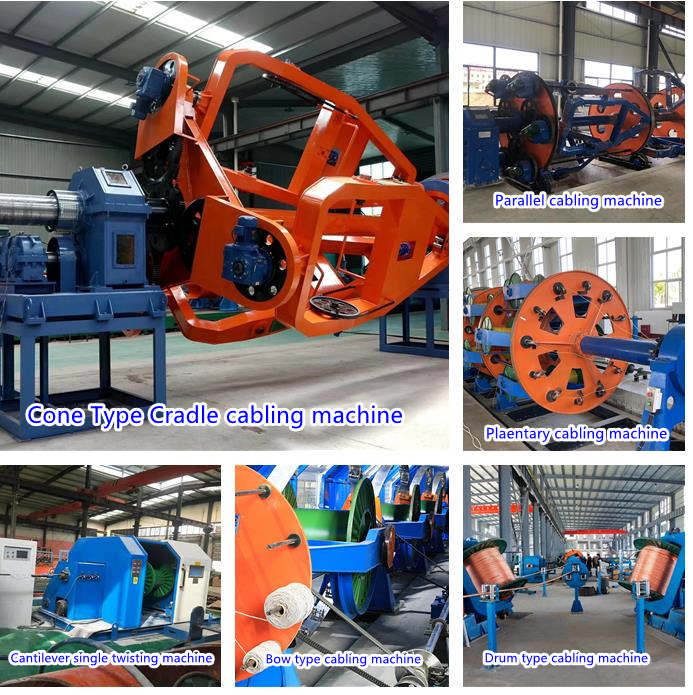 3. Driving form:
(1). Motor driving: each cage use independent motor driving.
(2). Shaft driving: all cage use one shaft to driving.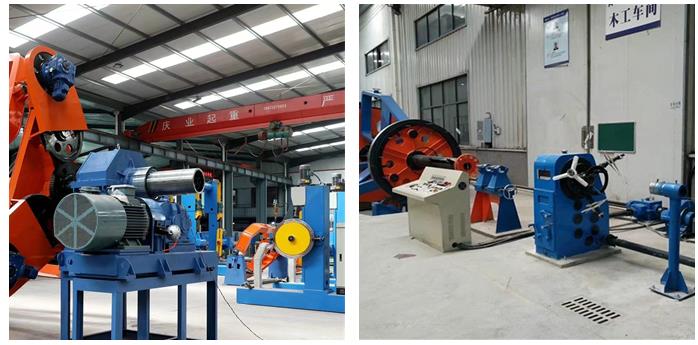 4. Technical parameter of cradle cabling machine:
Model

CLY-800

CLY-1000

CLY-1250

CLY-1600

CLY-2000

Single wire Dia

Φ5-14mm

Φ5-20mm

Φ6-25mm

Φ10-35mm

Φ15-45mm

Pitch

208-3680mm

208-3680mm

208-3680mm

420-7569mm

460-8600mm

Max rotation speed

10-25rpm

10-25rpm

10-25rpm

5-13rpm

3.9-11.2rpm

Max linear speed

4.98m/min

4.98m/min

4.98m/min

5.31-40.08m/min

5.31-40.08m/min

Max stranding OD

Φ45mm

Φ60mm

Φ80mm

Φ100mm

Φ120mm

No-metal taping head speed

185-416rpm

Metal taping head speed

185-416rpm

Pay-off in cage

PND800

PND1000

PND1250

PND1600

PND2000

Central pay-off

PN800

PN1000

PN1250

PN1600

PN2000

Capstan wheel Dia.

1800mm

2000mm

2000mm

2500mm

2500mm

Take-up

PN1600

PN2000

PN2500

PN3150

PN3150

Motor power

22kw

30kw

37kw

75kw

22kw