Planetary closer / Planetary stranding machine / Planetary strander line / Steel wire armouring machine / Steel wrie rope twisting machine.
1.Application:
·The machine is used for stranding Cu, Al wire, ACSR and insulated wires with back-twist. It also can steel-armoring or Cu-screening cables.

2. Features:
•100% back-twist
•For the stranding of profiled wires, both types of machine can be operated without back-twist (0%).
•Number of bobbins per stranding cage from 6 to 36, max. 96 for armouring.
•Stranding bobbin dimensions from 315 to 630 mm flange diameter for standard machines.
•Machine bearing system: Underroller type with the stranding cage supported on underroller bearings. Compact. design with the stranding cage supported by bearings housed in the main drive stand and the outer bearing support stand, Hysteresis Tension.
3. Technical Parameter:
| | | | | |
| --- | --- | --- | --- | --- |
| Model | JLY-315 | JLY-400 | JLY-500 | JLY-630 |
| Single wire Dia. | Φ1-1.6mm | Φ1-4.0mm | Φ1.2-5.0mm | Φ1.5-5.0mm |
| Pitch | 26-749mm | 43-766mm | 41.47-732.10mm | 50.2-900.5mm |
| Max rotation speed | 108rpm | 90rpm | 88.5rpm | 70rpm |
| Max linear speed | 25m/min | 30m/min | 34.7m/min | 20m/min |
| Max input wire OD | Φ5mm | Φ7mm | Φ10mm | Φ12mm |
| Pay-off in cage | PND315 | PND400 | PND500 | PND630 |
| Capstan wheel Dia. | 1000mm | 1600mm | 2000mm | 2500mm |
| Take-up | PN1250 | PN1600 | PN2000 | PN2500 |
| Motor power | 18.5kw | 22kw | 37kw | 55kw |

4. Driving Form: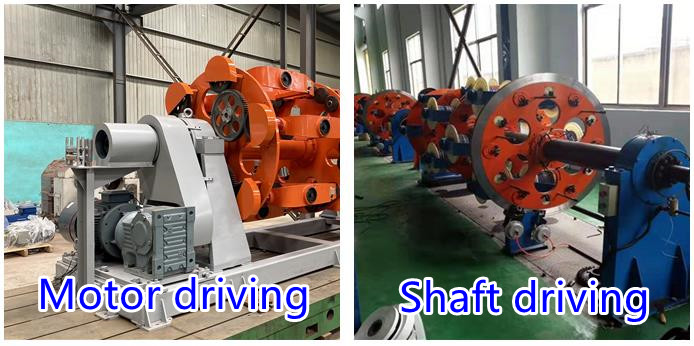 5. Pre-former, tension, clamping: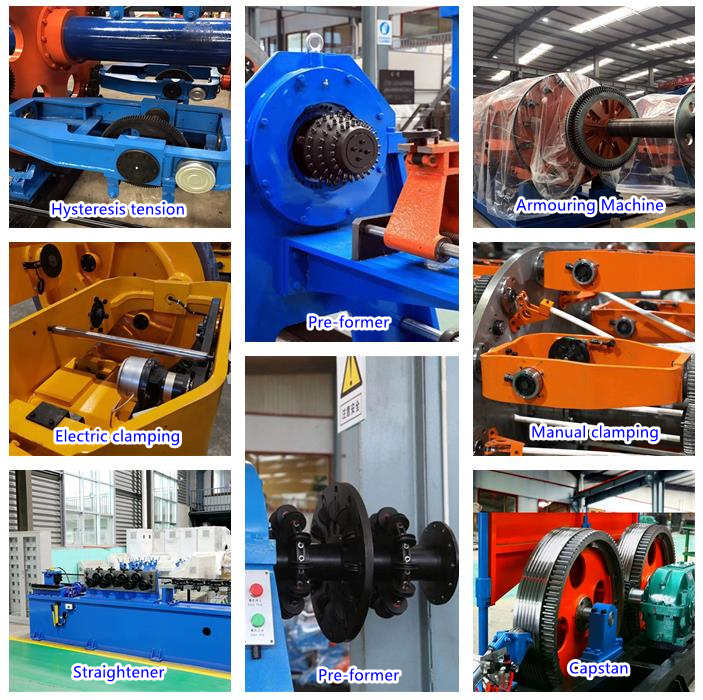 6. Professial steel wire rope twsting machine: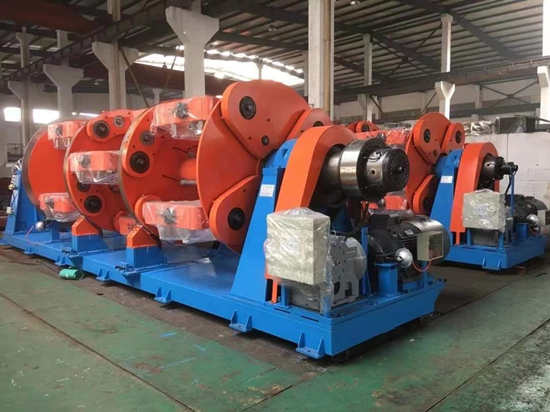 7. Professional steel wrie armouring machine: